Last August, Nashville's Metro Public Works partnered with Nashville Police Department, the Nashville Convention Center, the Visitor's Bureau and Downtown partnership to collaborate on a pilot program that may improve the overall traffic safety of Lower Broadway.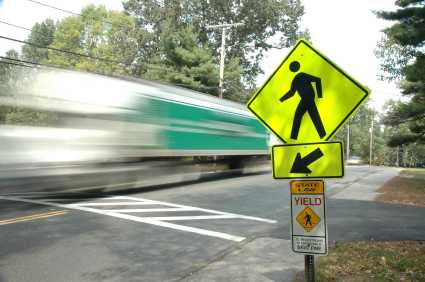 The biggest problem with Lower Broadway was the high number of pedestrians that pass through, but very little space for them to do so safely, which contributed to the higher number of citywide pedestrian accidents last year. As is, 15,000 vehicles pass through this section of downtown daily and an estimated 16,000 in foot traffic through intersections along the street. The pilot program was supposed to be under evaluation for a three-month period; however, the program has since been extended indefinitely.
WHAT CHANGES HAS METRO PUBLIC WORKS PEDESTRIAN IMPROVEMENT PROJECT MADE TO LOWER BROADWAY?
The conflict with the Pedestrian Improvement Program is balancing the necessities to expand busy pedestrian walk areas, still conserve adequate parking and vehicle loading zones as well as maintain the space for both vehicles and bicycles to move through the area. Improvement goals include the following:
Placing portable fencing units that designate the edge of the expanded pedestrian area
The creation of dedicated loading zones for deliveries, including an additional zone on the east side of 1st Avenue Street
Creating a taxi stand on both sides of 4th Avenue street
No longer allowing left turns onto Broadway from the Northbound side of 4th Avenue Street
Closing Lower Broadway parking lane for the busy five-block stretch and replacing it with a protected walking area with temporary fencing for pedestrian use.
According to a Public Information Officer at Metro Public Works, pedestrian and business owner feedback has been mostly positive.
KEEPING THE PEDESTRIAN IMPROVEMENT PRODUCT IS A GOOD DECISION
According to Metro Public Works, the Pedestrian Improvement Project has been a successful in improving pedestrian safety. Hopefully, by the end of the year, we will see a decrease in the number of pedestrian accidents compared to last year.
Although Metro Public Works has decided to keep the program, it is still accepting evaluation and suggestions in regards to program improvements.
Stanley A. Davis is a personal injury attorney for those who have suffered injury in pedestrian accidents in Nashville, Tennessee.
"And walk in love, just as Christ also loved you and gave Himself up for us, an offering and a sacrifice to God as a fragrant aroma." Ephesians 5:2