Uber and Lyft Car Accident Insurance Issues
Call a Nashville Uber Accident Lawyer After a Rideshare Accident
The rise of ridesharing applications for smartphones has given thousands of people the opportunity to make money by giving rides. However, the success of ridesharing apps like Uber and Lyft has not been without problems. As these ride-sharing apps carve out a place for themselves in our modern economy, the question of who pays when an Uber accident happens is now a leading legal issue.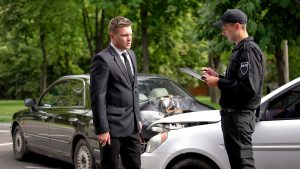 Since the firm began in 1997, Nashville accident attorney Stanley A. Davis has prided himself on being more than a lawyer to his clients. He is your Nashville neighbor, helping to make the community safer for his family and yours. Ridesharing companies are often more concerned about their bottom lines and reputations than accident victims. Therefore, if you are in an uberX or Lyft accident in Tennessee, these companies may deny or limit your claim. Do not let them. Call our Uber accident attorney in Nashville today.
Nashville personal injury attorney and Civil Trial Specialist Stan Davis knows what to do to hold careless companies and drivers accountable for negligent actions. Get the experienced legal representation you deserve.
Call our firm at (615) 866-3938, or contact us online for free legal help after a Lyft or Uber accident.
Who is Responsible for Damages in a Nashville Lyft Accident or Uber Accident?
If you have ever taken a ride in an Uber or Lyft vehicle, you have probably wondered what would happen if you were to get in a car accident. Would the insurance policy of the driver, company or combination of the two cover your medical expenses? Unfortunately, most personal car insurance policies do not cover passenger injuries if the driver is transporting passengers for a fee.
Most rideshare companies require their drivers in most states to hold $1 million in commercial insurance coverage when transporting customers. This liability coverage may also provide compensation to other drivers and pedestrians involved in Lyft or Uber accidents. However, this commercial liability coverage is limited to Uber drivers who have accepted trip requests or are transporting customers. It does not provide commercial insurance coverage when the driver has no active clients.
Does Uber Have Enough Insurance Coverage for Accidents?
Uber and Lyft drivers waiting for fare may only have their own personal insurance policies to cover injuries or damages in the event of accidents. This personal insurance coverage could be the minimum required by law, which will not provide sufficient compensation for or cover Lyft or Uber accident injuries. As independent contractors, Uber and Lyft drivers are also not classified as employees, making Uber accident liability even less clear. Changes in the laws that regulate how much Nashville accident insurance coverage Uber, Lyft and other rideshare drivers must carry could help protect the rights of those injured in rideshare accidents.
After an Uber or Lyft accident, gaining compensation may depend on the circumstances and laws of your state. If you are thinking about filing an Uber accident lawsuit due to a rideshare crash in or around Nashville, Uber accident lawyer Stan Davis can help. Contact our personal injury law firm today to learn more about Uber accident liability and for help determining if the driver was covered by his or her own personal auto insurance, commercial insurance or supplemental insurance from the company. Our firm can handle the complicated insurance issues while you focus on recovering.
Safety Tips to Avoid a Tennessee Lyft and Uber Accident
The best-case scenario is to avoid a Nashville car accident involving an Uber of Lyft hired driver altogether. Although accidents can happen without warning, you can do a few things to stay as safe as possible when using Uber and Lyft rideshare services:
Only accept rides from Uber or Lyft drivers who have high ratings from others
Always wear a seat belt
Make sure before getting into the vehicle that the vehicle's lights are working and the vehicle does not seem damaged
Be courteous to the driver, and try to avoid any unnecessary driving distractions
Do I Need a Personal Injury Attorney if I Get into an Uber Accident?
If you are involved in an Uber or Lyft accident, the amount of insurance coverage available to compensate for your personal injuries and losses is not always clear. You should contact a qualified Uber accident attorney in Nashville to discuss the possible legal options you may have to protect your right to gain financial compensation after a car accident involving an Uber or Lyft vehicle.
Contact the Law Office of Stanley A. Davis today for a free, no obligation Uber injury consultation.