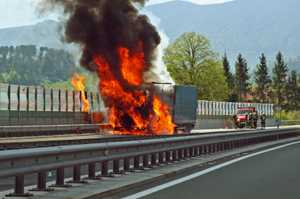 A Mt. Juliet family is still recovering from an incident two weeks ago that led to burn injuries for a Tennessee woman. The woman was driving five of her children for a day in Long Hunter State Park when the unthinkable happened. As she pulled into a parking spot, suddenly, all of the lights on her dashboard came to life before the van sputtered to a halt. Smoke began billowing from under the hood, and it was only when one of her young sons stepped out of the car to look at it from outside that he noticed the fire.
The family fled the vehicle, which quickly erupted in flames that consumed the whole minivan. In a moment of panic, the mother attempted to stomp out a flame that had fallen to the ground near the truck. When she did, the heat melted her shoe and sock to her foot.
The van was the family's only means of transportation, but a GoFundMe has been set up and has raised over $12,000 already to replace the vehicle.
DOES INSURANCE COVER INJURIES FROM CAR FIRES?
Car insurance policies often do not cover mechanical failures. However, in cases of fire, insurance providers often make exceptions. Comprehensive car insurance may cover the full cost of the repairs. But, every insurance policy is different. Check with your provider to determine if you are covered.
When it comes to injuries, you will likely have to refer to your health insurance provider to see if you are covered.
Insurance is not your only option for recovery. Many car fires are caused by defective parts. If your car fire is the result of a product defect, you may have a product liability claim against the manufacturer. Speak to an attorney to determine the best course moving forward.
Deuteronomy 31:6, "Be strong and of good courage, do not fear nor be afraid of them; for the LORD your God, He is the One who goes with you. He will not leave you nor forsake you."