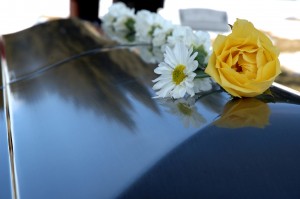 ABC News had an interesting story recently about secondary drowning, which can occur hours after a near-drowning incident takes place.
According to the news outlet, a toddler, Ronin Kujawa, was recently attending a pool party in California, when he wandered into a spa. "I just turned, maybe 5 seconds, and he had jumped into the spa," his mom Lindsay Kujawa told WABC-TV. "And the jets whirled him to the other side."
Ronin was underwater for only about 20 seconds when Lindsay was able to pull him from the spa. He appeared to be fine following the accident, however, a few hours later he began to cough, and he became lethargic.
Lindsay took Ronin to the hospital, where doctors discovered that he still had fluid in his lungs, as he was experiencing what is known as secondary drowning. "[Secondary drowning] can take up to 24 hours to develop symptoms," Dr. Stephen Epstein told WABC. "Although most people, if they're going to have a significant event, develop symptoms within about 4 to 8 hours."
According to WABC, when secondary drowning occurs, the fluid that remains in the lungs prevents the tiny air sacs from taking oxygen out of the air and moving it to the blood. It makes breathing very difficult and can decrease oxygen in the blood over time.
Luckily, for Ronin, he was able to go home after a 24-hour stay at the hospital. Experts say that if your loved one is ever involved in a near-drowning event, you should monitor their progress afterwards, paying attention to his or her breathing pattern and energy levels.
WHAT SHOULD I DO IF MY LOVED ONE EXPERIENCES A DROWNING INCIDENT AT A POOL?
With the Fourth of July holiday coming up, many people will be celebrating by attending pool parties, or going to family or neighborhood functions involving bodies of water.
Keep in mind, if you own a pool, you should have life-saving equipment nearby, including life vests, lifesavers and first aid kits. If you do not, and your negligence results in someone else's injuries or death, you could be held liable. Additionally, you should also take out an insurance policy that covers pool accidents on your property.
If you or your loved one ever suffers serious personal injuries due to someone else's negligence, contact us today. Our Nashville premises liability lawyer has decades of experience assisting victims.
"Acquaint now thyself with him, and be at peace: thereby good shall come unto thee." – Job 22:21
Source: https://7online.com/health/secondary-drowning-parents-warned-of-potentially-fatal-risk/98282/