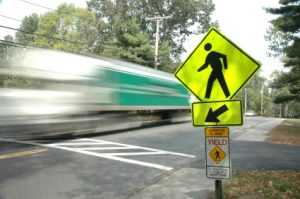 As we have been reporting in our blog recently, Tennessee has been ranked as the 11th most dangerous state for pedestrians, with 800 deaths from 2003 to 2012.
In addition to death, these accidents lead to catastrophic injuries like paralysis, traumatic brain injuries, spinal cord injuries, broken bones and amputations. From 2003 to 2012, there were more than 47,000 pedestrian deaths nationally, along with nearly 700,000 injuries.
Sadly, a man was killed and two others were seriously injured on July 6 after a motorcycle crashed into a pedestrian on Interstate 65 in Madison. According to WKRN-TV, the crash occurred between the Madison and Rivergate Parkway exits in northbound lanes.
The news outlet reported that the pedestrian, 45-year-old Gregory Crabtree, blew a tire on the interstate and was in the roadway to pick up a piece of tire tread. Eric Knight, 34, who was driving a Harley Davidson motorcycle, subsequently struck him.
The crash caused Knight's motorcycle to turn into Crabtree's truck and the guardrail, ejecting him and his passenger, 27-year-old Abigail McCormick.
Knight died at the scene of the crash. WKRN reported that Crabtree was transported to Skyline Medical Center with critical injuries. McCormick also sustained serious injuries and was transported to Vanderbilt University Medical Center for treatment.
HOW DO I FILE A NASHVILLE WRONGFUL DEATH LAWSUIT?
While this incident remains under investigation, many pedestrian accidents are the result of driver error and/or poor designs at intersections. Recently, it was reported that the Memphis- metro area was the fifth most dangerous area for pedestrians in the country, while Nashville ranked as the 15th most dangerous area.
If your loved one dies in a pedestrian accident because of someone's negligence, you can hold that party liable via a wrongful death lawsuit, which can help you recover economic damages that include lost income, medical expenses and funeral costs.
Contact us today to seek compensation. For a free consultation, call (615) 866-3938 to speak with a Nashville injury attorney now.
"O come, let us worship and bow down: let us kneel before the LORD our maker." – Psalms 95:6
Davis' Words of Wisdom: If you experience vehicle problems on the highway, attempt to avoid potential accidents by calling roadside assistance.