Maria Griffin is one of the recipients of the "Pay It Forward" Scholarship offered by the Law Office of Stanley A. Davis. She is a rising senior at the University of Tennessee Chattanooga, and she is majoring in Legal Assistant Studies with a minor in Africana Studies. She is a graduate of John Overton High School, where she was a member of the National Honors Society and BETA Club.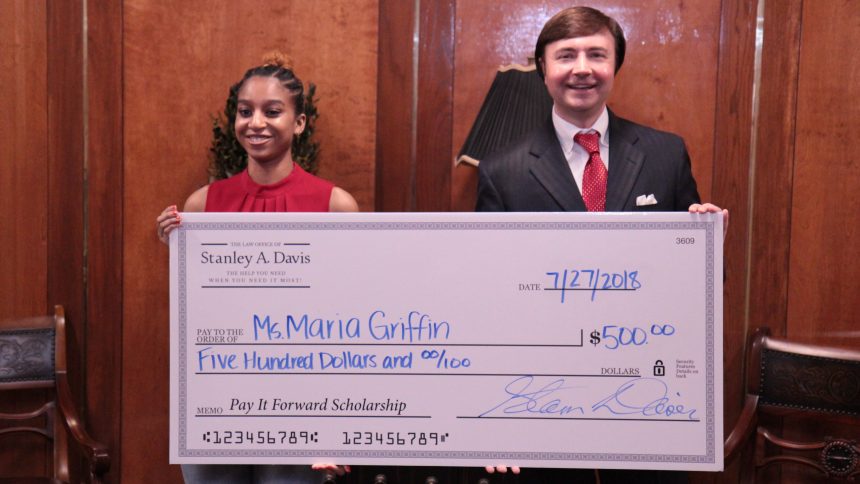 Griffin is an active member of the Alpha Lambda Delta National Honor Society, as well as the Phi Eta Sigma National Honor Society. She was a Residential Scholar from 2016 to 2017 where she lived on campus, and she has maintained status on the Dean's List every semester. She has also received scholarships from The Nashville Alumnae Chapter of Delta Sigma Theta Sorority, Inc., UTC Achieve Award Spring 2018, and the Tennessee Hope Scholarship.
After graduation, Griffin plans to go to law school. She wants to make a lasting difference by being a lawyer in her community. She wants to focus on juvenile law because she believes she can help minority children find better life opportunities that will keep them on the right path. She also hopes to be a mentor to these less fortunate children. With her African Studies minor, she has learned to understand the deeper problems in African American communities, and she hopes she can help through her knowledge of these minority struggles.
The Law Office of Stanley A. Davis is committed to community service, equal access to justice, and social responsibility. The "Pay It Forward" Scholarship was offered to undergraduate students who illustrated this commitment by serving their community and promoting equality. Our law firm wanted to recognize students like Griffin who are hard-working, dedicated, and committed to serving those who need it.