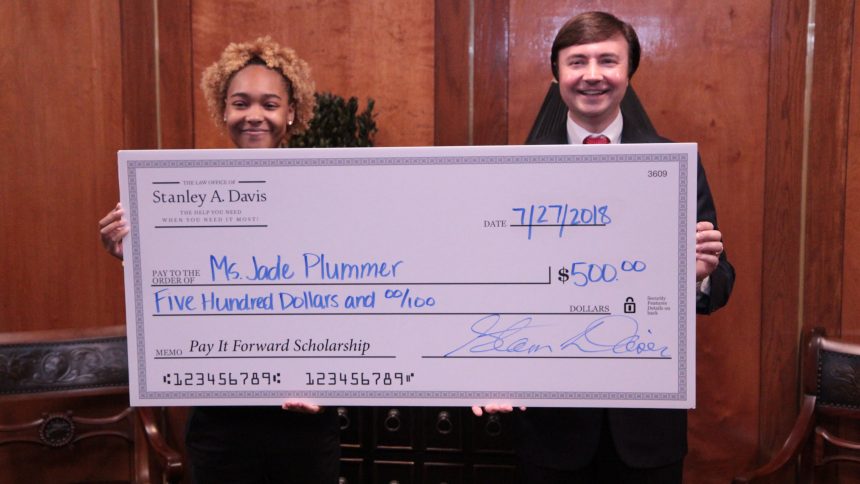 Jade Plummer is one of the recipients of the "Pay It Forward" Scholarship offered by the Law Office of Stanley A. Davis. Plummer is a graduate of the 2018 Class of MLK, Jr. Magnet High School. Her volunteer experience included participating in church youth activities in Murfreesboro, Tennessee, as well as singing and drumming in the Children's Choir and visiting sick members throughout fundraisers and events in the community.
Plummer also has experience in law. During her senior year, she received an A in a community service class called Senior Capstone, where she was asked to present a solution to an issue in the community to three judges. She also shadowed attorneys as part of her community service, and she had opportunities to sit in on court cases, trials and a close hearing at the Municipal Court House downtown. She also filed work related to settlements, created questions to pose to defendants, and analyzed important legal information to present to judges.
In the future, Plummer plans to enter the field of entertainment law, where she can create a fairer justice system by promoting enablement, education, and empowerment between lawmakers and citizens. She will be attending Lipscomb University this fall, and she plans to major in Pre-Law with a History minor.
The Law Office of Stanley A. Davis is committed to community service, equal access to justice and social responsibility. The "Pay It Forward" scholarship was offered to undergraduate students who illustrated this commitment by serving their community and promoting equality. Our law firm wanted to recognize students like Plummer who are hard-working, dedicated, and committed to serving those who need it.