Morgan Goodson is one of the recipients of the "Pay It Forward" Scholarship offered by the Law Office of Stanley A. Davis. Goodson graduated from Riverdale High School in May 2017, and she will go into her sophomore year at Middle Tennessee State University (MTSU) this coming Fall.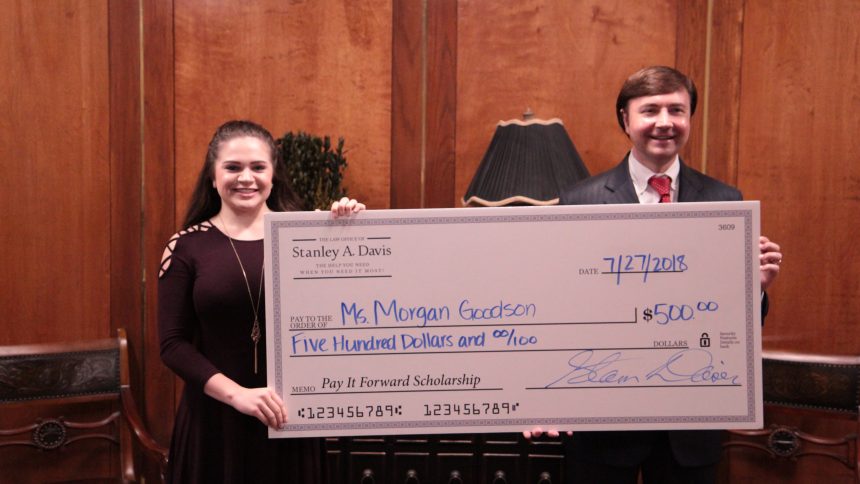 Goodson is a content creator for The Odyssey at MTSU where she writes weekly articles. She also participates in a nonprofit Christian Ministry on MTSU's campus called Young Life. For volunteer work, Goodson works in the preschool and nursery at Christian Life Church two or three times a month and beginning in the fall she will be pursing an internship with the church as well. She also enjoys wrapping presents for A Soldiers Child through the church. Additionally, she helps out with the Prison Ministry at New Vision Baptist Church.
Goodson is currently majoring in Social Work with a Spanish minor. After receiving her Bachelor of Social Work (BSW), she plans to get her Master of Social Work (MSW) and complete a Forensic Social Work certificate program. Her future goal is to be a Correctional Social Worker to assist released inmates in becoming functional members of society, and to decrease the rate of recidivism.
The Law Office of Stanley A. Davis is committed to community service, equal access to justice and social responsibility. The "Pay It Forward" scholarship was offered to undergraduate students who illustrated this commitment by serving their community and promoting equality. Our law firm wanted to recognize students like Goodson who are hard-working, dedicated, and committed to serving those who need the help.