Object Fall at a Tennessee Job Site and Cause Injury?
Construction Accident Attorney in Nashville on Dangers of Falling Objects for Workers and Civilians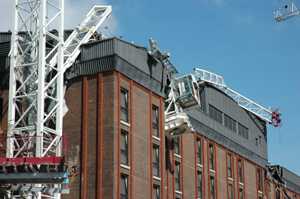 For construction workers, the risk of injuries caused by falling objects on a job site is substantial. About 8 percent of fatal construction injuries result from a worker being hit by a falling object, according to Occupational Safety and Health Administration (OSHA). Additionally, construction accident statistics from 2014 found that there were 899 construction fatalities that year, including 73 deaths caused by falling objects hitting workers.
At the Law Office of Stanley A. Davis, our Nashville construction accident attorney handles all matters related to personal injury claims caused by falling objects on construction sites. We will conduct a thorough investigation of your case, including traveling to the job site, if necessary. Our law firm will also carefully question witnesses and bring in experts to put together your case. We then want to seek the full financial compensation you deserve.
Take advantage of our free consultation by calling (615) 866-3938.
Types of Falling Objects on Construction Sites
Examples of falling objects on job sites may include tools, construction materials, flying debris from power tools and structural collapses as well as heavy equipment loads that fall. Falling objects are just some of the most common types of construction accidents. These accidents often then lead to traumatic brain injuries, lacerations and other severe injuries. While you are entitled to Tennessee workers' compensation benefits, there may also be third party liability. A third party claim is against a person or company, other than your employer, for its negligence in causing your accident.
Nashville construction accident attorney Stanley Davis take cases involving injuries caused by any type of falling object on or around job sites, including:
Power tools or machine components
Lumber, drywall, pipes or other construction materials
Discarded building materials or other site debris
Loads from a crane, cherry picker or other piece of heavy equipment
Beams, girders, concrete or other building parts in a structural collapse
We handle claims involving all types of serious and catastrophic loss. This includes everything from broken bones or fractures to traumatic brain injury at work, from spinal cord injury and paralysis to amputation or loss of limb as well as wrongful death claims on behalf of the families of workers killed on the job.
Nashville Construction Accident Attorney Handling Falling Objects Lawsuit Cases
Construction accident attorney Stanley Davis will help you seek damages for any type of loss. These may include medical expenses, lost wages and pain and suffering. It could also include the loss of companionship if a falling object on a construction site causes the wrongful death of a loved one.
Stanley has successfully represented hundreds of clients from all over Tennessee in construction accident lawsuits. He holds employers and third parties accountable.
If you need legal assistance, then call our firm at (615) 866-3938 to set up your free initial consultation.