Hurt in a Car Accident on the I-40?
Our Experienced I-40 Accident Lawyer Knows How to Help Victims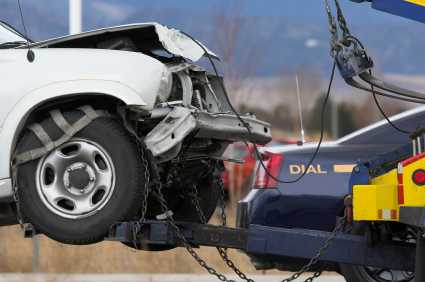 I-40 is one of the busiest highways in Tennessee. It connects us to Nashville, Memphis and Knoxville — the three largest cities in our beautiful state. With more and more drivers on the road, the risk of accidents is higher — driver error and distracted driving being two leading causes of car accidents. According to data recorded by the National Highway Traffic Safety Administration (NHTSA) and the Federal Highway Safety Administration (FHSA), Interstate 40 is the most dangerous highway in Tennessee — there are "over 43 fatal crashes a year". While that may not seem like a high number, that is still 43 people who did not make it home to their families; 43 people who potentially suffered a wrongful death. Additionally, this number does not include several others who were injured as a result of these accidents.
If you or your loved one were injured in an accident on I-40 or other dangerous Tennessee highway (I-65, I-24 etc.), then you deserve compensation for damages. Founder and principal attorney of our Nashville law firm, Stanley Davis, has devoted his legal career to helping those who need it most. He is strongly affected by the stories of his wrongfully injured clients. This emotion is reflected in his passionate representation style on behalf of his clients in the courtroom. Since 1997, Stanley has helped fellow Tennesseans receive millions in settlements, allowing them to recover with less stress after being injured in a negligent accident.
What Are Different Types of Highway Accidents?
While many car and truck accidents can be attributed to negligence, it is not always the cause. Conditions outside a driver's control, such as poorly maintained roadways or inclement weather conditions, can also be contributing factors. Further, a large majority of highway accidents will involve large commercial vehicles, such as semi-trucks. As a result, injuries sustained in these accidents are often more consistently serious, and result in wrongful death.
The following are four of the most common types of highway accidents and how they can happen:
Rollovers. While large tractor-trailer vehicles are more susceptible to rolling over, other top-heavy passenger vehicles (such as SUVs and minivans) are at risk as well. This rings especially true on windy days. Factors that can lead to a rollover accident include speeding, road conditions due to weather and driver error.
Jackknifes. You might have seen a semi-truck with its cab and trailer portion facing each other at a 90-degree angle. This is called a jackknife and it is most often caused by speeding or because of a braking issue due to either a parts malfunction or driver error.
Head-on collisions. Unfortunately, this happens all the time on the highway. Often due to intoxicated driving, a driver will be going the wrong way and cause a head-on collision going at incredibly high speeds. Given that a person can be injured in a head-on accident with another car going 35-40 miles per hour, it does not take much imagination to guess what kind of destruction a high speed (65+ mph) head-on collision can wreak.
Rear-end collisions. This type of highway accident most often occurs because a driver is not paying attention. He or she could be looking down at their phone, taking a bite of food or fidgeting with the radio — all it takes is that split second of inattention to cause a serious accident. Highway traffic is often at the mercy of the construction work being performed; it is not uncommon for cars to come to a sudden slow down or stop because of construction work zones. If an unaware driver hits the car in front of him or her (possibly causing a domino effect) going over 60 mph, then there is a high probability that one or more persons are going to suffer a serious injury.
If you were involved in one of the above or other type of highway accident on I-40, then it is highly recommended that you seek an experienced I-40 accident lawyer. You may be able to hold several parties liable and maximize the amount of compensation that you are rightfully owed.
Who Can Be Held Liable in a Highway Accident?
Depending on the circumstances of a highway accident, you may be able to hold several parties liable for the accident. The following are three of the most common parties that might be found liable in the event of a highway accident:
Trucking companies. If your I-40 accident involved a semi-truck or other similar commercial vehicle, then it is highly recommended that you have an I-40 accident lawyer by your side. Pursuing legal action is usually difficult in these cases, especially against larger companies, as trucking companies usually have a retainer of lawyers on staff to help clear them of any wrongdoing. It will be their sole responsibility to ensure that you see little to nothing.
Government entities. When a pothole-laden road causes car damage, or a construction zone is not properly marked off or the road is improperly signed, you can pursue legal action against the government entity (and/or the workers) responsible for that road. Pursuing legal action against the government is often very difficult, even if you are in the right. If dangerous roadway conditions caused or contributed to the accident, then it is highly recommended that you seek professional legal counsel.
Employers. There are so many company cars on the road these days. If the driver who hit you was driving a company car, then you may potentially be able to hold the employee as well as his or her employer responsible for damages. However, you must be able to prove certain things in order to do so. For example, the driver must have been acting within the scope of his or her duties at the time of the accident. If the employee was intoxicated by drugs or alcohol while driving the company vehicle, then the company could very likely argue their way out of taking any responsibility for the accident. In these cases, sole liability would land on the employee.
If you were involved in any of the above (or other similar) scenarios, then you might be eligible to receive compensation for past, present and future damages suffered. Damages can include current and future lost earning potential as well as emotional pain and suffering.
Injured in an Accident on I-40? Call Our I-40 Accident Lawyer Today
Highway accidents are some of the most dangerous and fatal accidents that can occur on the road. While many of us assume our civic duty to drive responsibly when we get behind the wheel, it is unfortunately not the case that every other driver will return the favor. If another driver was negligent that lead to you suffering an injury, then that driver (and any other guilty parties) should be responsible for making your recovery as stress-free as possible.
Our I-40 accident lawyer, Stanley, has been litigating personal injury cases across Nashville and the surrounding areas for over two decades. Fellow Tennesseans know him as a caring local attorney who gets to know each of his clients personally. He has dedicated his career to helping the wrongfully injured receive rightful compensation for damages.
Contact us online or call us at (615) 866-3938 to schedule your free case evaluation today.