Suffering Tire Blowout Injury? Truck Tire Blowout Cause the Death of a Loved One?
Nashville Truck Accident Lawyer Can Help You Seek Compensation
If you have spent time driving, you have probably seen debris left behind from tire blowouts on roadways. Usually, these are pieces of tire fragments left by large commercial trucks, but they can also come from passenger vehicles. A tire blowout can be a recipe for disaster on highways, causing car or truck accidents resulting in personal injuries and death.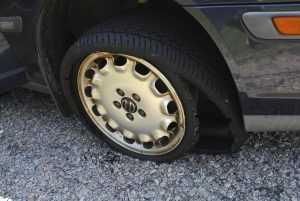 Tire Blowouts Cause Personal Injuries and Fatal Accidents
Our Nashville truck accident lawyer understands the significance of a car or truck accident caused by a tire blowout. Due to their unexpected nature, these types of crashes lead to serious personal injuries like:
Thankfully, our Nashville truck accident lawyer is dedicated to helping victims of car or truck accidents caused by tire blowouts. He can help you recover possible product liability or negligence damages, particularly if your accident was the result of faulty or improperly maintained equipment.
What Causes a Tire Blowout?
Tire blowouts can occur when a semi truck, tractor-trailer, or personal vehicle have improperly sized tires (not meeting pressure requirements or weight restrictions), defective tires (recalled tires or improperly manufactured tires), or tires that are not maintained properly.
Other issues that can lead to a tire blowout include:
Potholes
Overloading a vehicle
Small punctures
Debris in the roadway
A tire blowout can occur at any time, which is why it is important for drivers of commercial and personal vehicles to properly maintain and check their tires.
Common Causes of Truck Tire Blowout
When a tire fails, the whole trailer of a semi-truck can be thrown off balance, or even tip over. The driver may also find it more difficult or impossible to steer. As soon as the trucker loses control of the truck, for whatever reason, a dangerous crash becomes almost inevitable.
The most common reasons for a truck tire blowout include:
Improper retreading: Truck tires are designed to allow new treads to be applied over an old, worn-down tire. When done correctly, these tires are perfectly safe. However, when done incorrectly or on a tire that is too old, tire separation is likely to occur. Tire or tread separation happens when the tread breaks free of the tire while the truck is moving. These large, heavy strips of rubber can hit other cars and even break windshields.
Old tires: When tires become too old, they have a much greater chance of failing or shredding on the road. Old tires may also have shallow tread that will not effectively stop a truck. Sometimes, trucking companies neglect to change old tires to save money.
Mismatched tires: If a tire needs to be replaced, the company or driver is supposed to replace all the wheels on the axle to maintain balance. When a new tire is paired with an old, worn-down tire, the difference in their sizes could be enough to cause stress to one or both of them, increasing the chances of tire failure.
Defective tires: Sometimes, tires fail due to manufacturing defects. In this case, the company that makes the tires could be held liable for any injuries caused by the blowout.
Attorney in Nashville for Tire Blowout Lawsuits
If you have sustained personal injuries or have lost a loved one because of a car or truck accident involving a tire blowout, you may be entitled to accident compensation. We may be able to help you recover damages relating to medical expenses, including rehabilitation and therapy, as well as compensation for your pain and suffering. If you have lost a loved one, we may be able to assist you in filing a wrongful deathlawsuit.
Michelin estimates that every year approximately 23,000 car or truck accidents occur because of tire blowouts, resulting in 535 fatalities. These numbers may be low, as most estimates on blowouts actually come from tire manufactures. If you have suffered a serious injury or lost a loved one in a car or truck accident caused by a tire blowout, let us help you.
Contact our Nashville accident attorney now at (615) 866-3938 for a free evaluation of your case.
Proverbs 11:14 Where there is no guidance, a people falls, but in an abundance of counselors, there is safety.