Lost a Loved One in a Fatal Semi Crash?
Nashville Fatal Truck Accident Lawyer for 18 Wheeler Wrongful Death Claims
Fatal truck accident lawyer and wrongful death attorney Stanley A. Davis has made a career of speaking up for those seriously wronged by another person or company. Families in this situation need a strong voice, one that is devoted to doing the right thing and making sure justice is served. A voice that will also honor your loved one by gaining your family the peace of mind that those at fault for your loved one's passing are being held accountable.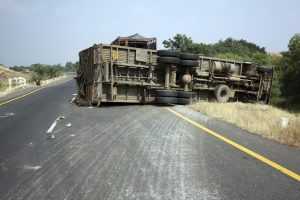 Our fatal truck accident lawyer Stan Davis can be this voice. His work on behalf of families in mourning includes a significant wrongful death settlement of $900,000 he gained a client whose father passed away after several weeks of suffering because of the negligence of the other involved party. While no money value can be put on the life of your loved one, the financial compensation gained from a successful wrongful death lawsuit after a fatal truck accident can go towards medical bills, funeral costs and whatever your family believes best honors your loved one.
Can a Family Sue for Wrongful Death from a Truck Accident?
Proverbs 31:8 asks us to speak up for those who cannot speak for themselves, and this is especially true when filing a wrongful death lawsuit after a fatal truck accident. In such tragic cases, it is even more critical that you speak to an experienced Nashville fatal truck accident lawyer as soon as you can to make sure your family is able to hold the truck driver, trucking company or other at fault party responsible for their negligence.
Nashville wrongful death attorney and truck accident lawyer Stan Davis can help families by filing a wrongful death lawsuit that will:
Prove negligence of all at fault parties — Whether the party who caused your loved one's death in a truck accident was entirely responsible or in part responsible because of poor truck maintenance, unsecured cargo, trucking law violations or other acts of recklessness, our Nashville truck accident lawyer will work with seasoned investigators and other accident experts to establish accident fault.
Pursue all recoverable damages — Our Nashville truck accident attorney can help you obtain reasonable damages for medical expenses, funeral bills, conscious pain and suffering, loss of earning power of the deceased, loss for the services, advice and counsel of your loved one in addition to loss of companionship, society and consortium.
Meet all deadlines — There are time limits for bringing wrongful death lawsuits in Tennessee, which makes the timing of the lawsuit filing very important. A number of circumstances can factor into how much time the law allows the family of an individual who passed in a fatal accident to sue. This is why it is essential that you speak with an experienced Nashville truck accident attorney as soon as possible following a tragic truck crash to know when and if you should file a wrongful death lawsuit.
Damages in Semi Truck Wrongful Death Settlements and Verdicts
Wrongful death lawsuits aim to hold a negligent party responsible, even if that party does not receive criminal charges. Additionally, just as there are times when a family might not have legal recourse when it was clearly a wrongful death, there are also truck accident cases in which a technicality may entitle a family to wrongful death compensation when a fatal truck accident did not appear to be a wrongful death at first.
In the end, the exact amount of the damages recoverable in a truck accident lawsuit depends entirely on the facts of each specific accident case. Our wrongful death attorney also has years of experience practicing as a Nashville accident lawyer, and he may be able to use what he knows about truck accident claims to provide an estimation of how much your accident lawsuit may be worth when you call and schedule your free consultation with him at (615) 866-3938.
Find a Fatal Truck Accident Lawyer in Nashville
Losing a loved one to a truck accident is extremely difficult for all involved, but Nashville truck accident attorney Stan Davis gives your wrongful death lawsuit the personal attention and tireless work ethic that has led to several successful wrongful death verdicts and settlements in the past.
We believe everyone deserves qualified legal counsel following the death of a loved one. You also pay no attorney fees unless the truck accident case ends in your favor. You have no financial risks to get your truck accident questions answered by an attorney for free. Call today.
Schedule a consultation with our Nashville truck attorney at no charge, and he will explain your best choices for seeking justice.