Dangers of Falsifying a Truck Driver Log Book
Nashville Truck Accident Attorney Explains How Violations of Hours and Service Rules Can Lead to Wrecks
All truck drivers in the United States are required by law to keep a log of their resting and working hours in something called a truck driver log book. These logs help drivers and trucking companies keep track of the locations truckers visit and number of hours they spend on the road every day. Unfortunately, some drivers falsify their log book to conceal the fact that they are working more hours than allowed by law.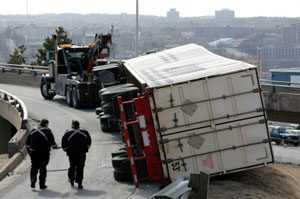 Nashville truck accident attorney Stanley A. Davis understands the pain and suffering a family experiences when someone they love is injured or killed in a semi truck accident. Since 1997, he has handled these and other cases involving truck driver error and trucking company violations. In one recent case, he was able to help a client recover $650,000 for injuries caused by a negligent truck driver. A falsified log book can be a powerful tool that Stan can use to strengthen a truck accident lawsuit and obtain the damages you and your family deserve.
Truck Driver Log Book Fraud Can Contribute to Semi Truck Accidents and Injuries
Truck drivers and trucking companies are subject to laws that place restrictions on how long a driver is allowed to spend behind the wheel each day and how much rest he or she must get to keep the roads safe for everyone. These trucking laws include:
Drivers cannot drive more than 11 consecutive hours after a minimum of 10 hours off-duty.
Drivers cannot drive after being on duty for 14 hours, regardless of breaks, after a minimum of 10 hours off-duty.
Drivers must take a break of at least 30 minutes for every 8 hours they spend driving.
Drivers may only drive a total of 60 hours in a week and 70 hours for an 8-day period.
Although there are exceptions for drivers using sleeper berths, drivers who work in teams and for short-haul drivers, the point of these rules is to ensure that no truck driver operates a semi truck while he or she is too tired to be fully aware and alert.
It is proven that truck driver fatigue dramatically increases the risk of semi accidents. Truck drivers have even been known to fall asleep at the wheel after pushing themselves to spend too much time on the road.
Truck driving is a competitive and stressful business, and some drivers may feel pressured to falsify their log books to make deliveries faster to compete with other drivers. Some may fill out false logs because they feel awake enough to drive past the imposed limits. Trucking companies may even ask their drivers to stay on the road longer than is legally allowed and to falsify their log books to make it appear that they are following trucking laws.
All of these practices are illegal, and any driver who is asked by his or her company to falsify a truck driver log book should refuse and then give an experienced truck accident attorney a call. While it is a difficult decision to refuse to participate in these illegal activities, they could be saving their life and the lives of other motorists sharing the road.
Nashville Personal Injury Attorney Helps Victims of Semi Truck Accidents
Tennessee attorney Stan Davis is familiar with the complex laws that govern truck drivers, and has the experience needed to investigate whether a false log book may have contributed to an accident. He knows what to look for and what questions to ask to determine whether or not a truck driver has driven more than the number of hours allowed by trucking laws. Based in Nashville, Stan has helped families from Lebanon to Antioch get the justice they deserve. He will happily review any accident case in Tennessee, free of charge.
Stan Davis believes in faith and family values, and will always put a client's needs first. If you or a loved one has been injured in an accident involving a semi truck, the emotional toll can be devastating. He understands that and can take care of investigating the accident and the legal work while you recover. He works on a contingency fee basis, so if your case is not successful, you owe him nothing for attorney fees.
Call his office today for a free consultation about your truck accident lawsuit.